In order to withstand onerous and stiff competition in the market, business firms have turned their head to digital pundits to make sure influential advertisement of their services. This is done to make sure the quality assurance criteria are met and develop effective communication relationships with customers. The primal objective is to provide top-notch services within a predefined time window.
Quality Assurance vendors tend to build a team with a common interest and that is equipped with knowledge about organization culture and attitude. The goals of this entail optimization of costs, escalating the efficiency, focus on the core activities that have the propensity to influence long-term objectives, and so much more. Besides bringing success to the organization, the team also has the responsibility to minimize the potential risk. The risks tend to influence the end-product pessimistically but the team makes sure the end product is flawless.
Albeit, it is commonly observed fact that building this team is quite an onerous task to pull, and finding an adroit QA person also presents the same challenges. This article would help you to hire skillful QA vendor from a company.
Is it worth onboarding the distance working team?
Every business organization having a fully-fledged IT team onboard try to ponder over the same question and evaluate a solution- "Should I hire a team of QA vendors from within the organization structure and train them for evaluating a digital solution or should seek an expert QA engineer from outside the organization based on contract and involve them into organization for scouring software characteristics?". That question is entirely dependent on the type of request the company has submitted.
If the organization aims to train and equip their departments about QA solutions and practices then it is preferred to hire a team within from organization and train them for the objective.
If the company's objective is to reduce the costs to a minimum by avoiding training then it is proposed to recruit an independent QA vendor with full skills developed already.
Once the QA vendor is outsourced he will establish a team of his own sharing the same purpose. This would enable the company's members to focus on core activities, thus, saving cost and time.
The outsourcing team is beneficial over the company's owns engineers in terms of setting non-key processes like testing of the software. The outsourcing team also conducts an independent assessment of software to check for its flaws and fix them.
Selecting a QA Vendor
To hire a QA vendor first of all a rigorous investigation is carried out for its provider's company. The core investigation evaluates the successful partnership provider has given in the past. All the information pertaining to the QA provider is accumulated, analyzed, and then scored. This information may constitute analyzing the portfolio comprising past relationships, market experience, and efficiency of operating, and other aspects that have liability to influence partnership.
You can assess the vendor's company prowess as a digital pundit by starting an analysis of their official website. What capabilities a company can possibly possess if it has failed to establish an influencing digital platform of its own? Isn't that right? Their official website would leave a lot for you to guess and score their prowess.
The provider company's past clientele can be a lot helpful to assess the abilities of vendors. These providers usually have a portfolio built on independent websites like Clutch where their working abilities are reviewed and rated. If you want to envision a comprehensive and true picture of the vendor past reviews would help greatly to establish valid grounds for your selection choices.
To gather more information about the vendor's company's past success rate or stories of how they have accomplished what they are advertising for, one must keep the option of analyzing the portfolio in mind. This helps to discern the facts about the past experience on similar projects
Many QA vendor provider's companies offer pilot projects which are sort of sample projects and the purpose of these sample projects is to help hire an organization to reassess their options. The company's professional QA vendors flaunt their expertized skills in the sample project and let the hiring organization rate them. Based on subsequent results achieved pilot projects hiring organization can make a decision. It is sort of the best way to assess the skills of vendors and choose a feasible option.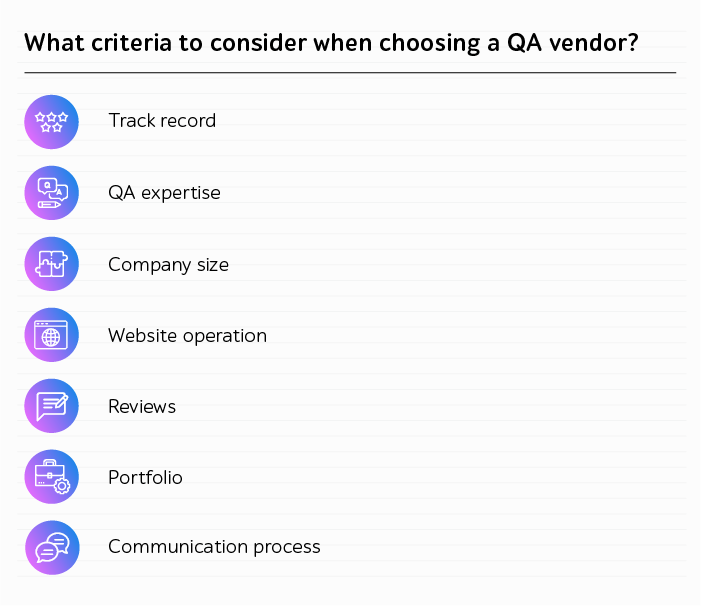 Integrating the Outsource QA team
Once the organization has walked past the step of selecting an appropriate QA vendor, the next big step is to establish a team that can work along with this vendor and integrates it into the current project infrastructure. This can be ensured by adopting a continuous mode of communication. This is the most organizing way of communication within the organization community that makes the flow of information without any disruption. Although, online sharing can also be effective to share tools like file storage and video rapidly.
Identification and assignment of the responsibilities to team members is also a salient step in this process. This prepares the team for the worst-case scenario and when some uncertainty or emergency strikes, it keeps everyone informed that whom to consult for a particular problem solution. The option of the regular meeting is also adopted to keep tabs on the smooth flow of processes.
During the project, it is important to ensure that the flow of knowledge from one person to another person is incessant and it is happening without any disturbance. Many of the organizations tend to fail at observing and conceiving a proper plan that would ensure transferring of knowledge and lesson learned. The insight into this matter is necessary and here at ElmoSoft you can find an algorithm devised by the experts that can aid you:
1. Compose a Plan: A proper plan is established on which a group of people works together to identify the business processes that are meant to be handled by the team we have integrated into projects. This plan would help to identify the areas that seek meticulous attention of the QA provider.
2. Ensure Minimum Impact on Business Critical Operations: If the organization has hired the QA vendor from the outside of the company's human assets then the knowledge transfer should not interfere with any business activity. The actions of the QA vendor shouldn't tend to influence critical business activities negatively. The organization's engineers must do their tasks impeccably.
Effective Communication
It is vital to hold an effective mode of communication between the QA vendor's company and the organization hiring it. They should be able to communicate with each other feasibly on regular basis to ensure an effective cooperation bond.
A simple or non-sophisticated mode of communication or tool can be used for non-critical or non-urgent activities. The communication procedure can be conducted on a weekly or daily basis by adopting more than one tool if the information is stored in one medium.
The results from a summary of past activities while at the start of new activity are provided to ensure work is according to the vision of the hiring organization and Vendor Company gets timely feedback. This marks the end of spring in Scrum. Following principles must be obeyed in the case of Scrum and SAFe.
Continuous communication
Planning actions
Meet deadlines
Deciding team members.
Scrum planning is short consisting of few hours while SAFe is time taking and takes weeks to plan, verify and configure. Scrum allows more than one team to work together on a lower level of dependency.
Estimating the remote team productivity
Before practically starting work on your activities, you should clearly define primary objectives. You can control the work, by tracking KPI's, that if it is deviating from the baseline and what should be done to achieve pre-defined objectives. The testing equipment should also be checked for its efficiency.
Partnership with an Outsourcing team: Core Concepts
The relationship between QA vendor and organization should be such limpid that everyone should be aware of every aspect of the software and information flow should be flow. Both the ends would be able to discuss the flaws and issues in software using a suitable medium and this would establish a trust level. QA vendors can have access to all the information needed to provide high-quality results and assess the change in a company. They would be able to look into the time zone of the customer's area and would improvise their schedule according to it. This ensures the customer has achieved all the primary goals and partnership is a lucrative one for both sides.
ElmoSoft knows how to tweak it to perfection. If you still doubt to onboard an outsourcing team, feel free to get hold of the ElmoSoft's experts.