Find out which trends help companies control the retail market in 2021 and how QA can assist implement them with proficiency.
In 2020, the retail market experienced 10 years' growth in a 3-month period, which is quite impressive. However, regardless of the rapid surge, the sellers should get everything set to handle the sharp changes in the users' behavior.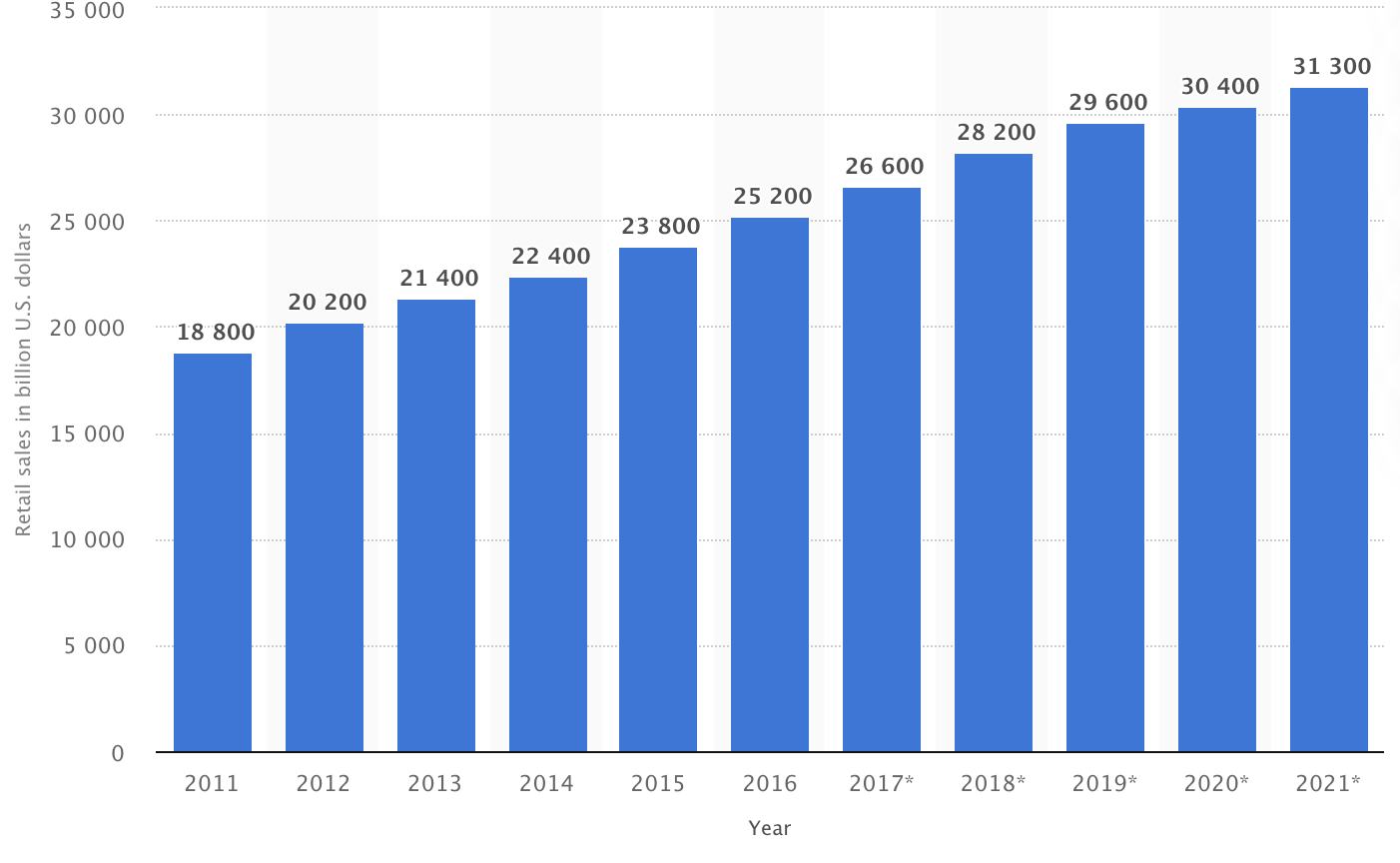 If you are wondering what eCommerce companies do for their business growth in 2021 and beyond, continue reading this post. We have highlighted 6 of the productive eCommerce trends and certain QA activities that can help with their seamless implementation.
The Future of Retail: 6 Top Trends to Consider in 2021
To keep a strong position in a competitive market, retail companies implement different strategies at different levels. The market players incorporate certain trends in their IT strategies to maintain resiliency in the business and be ahead of their competitors. Let's have a look at the top 6 retail trends that should be considered in 2021.
Trend 1 – Integrating Offline and Online Presences
The bricks-and-clicks phenomenon has become increasingly common over the last few years because of the behavior patterns of new purchasers. It assumes that retailers put to use various selling means using the website or social media.
Considering the significant decline in COVID-19, there should be offline spaces too where the customers can enjoyably make purchases in person. Therefore, companies should provide a great customer experience (CX) and ensure consumers enjoy trouble-free shopping in an offline or virtual space.
Trend 2 – Personalization for Better CX
Getting adjusted to the dramatically changing user behavior has already been taken for granted. Companies should shift their focus to personalization. Together with targeted offers, eCommerce players can also keep a track of the entireshopping journey, including customized product/service recommendations, individualized contact with the stores, right payment methods, etc.
When companies introduce personalization to a significant level, they may cut down on the marketing and sales costs, increase sales conversion, boost customer satisfaction scores, and improve employee participation.
Trend 3 – Mobile Purchasing
Taking the growing number of mobile apps and users into consideration, the term eCommerce can any time be changed into mCommerce as it has the potential of becoming an important selling channel.
The exact reason yet needs to be determined; however, for now, looking for additional information regarding a product/service on a mobile device impacts a huge volume of user's purchase decisions. And these figures are continuously increasing with every passing year.
Trend 4 – Broadening Marketing Horizons Using Social Media
Companies use different social media platforms as a space to build and promote the brand. Social media, becoming a comprehensive marketing tool, allow brands to grow target audiences, get direct feedback, and form a business strategy based on the figures all in the same place.
Trend 5 – Making AI Buyer's Personal Shop Assistant
Getting widely used for enhancing the precision and effectiveness of human efforts, Artificial Intelligence (AI) also provides personalized recommendations to users, based on their previous searches or purchases. Companies, with the help of AI-based analytics, can reorganize their stocks by quickly matching purchases' preferences while attracting more store visitors.
Those AI-powered robots performing jobs at the warehouses may have more power in the matter of getting products to the shop floor and becoming sellers; thus, helping both the businesses and purchasers.
Trend 6 – Using Voice Commands for Shopping
Smart speakers have already been used for Internet surfing all across the world. Therefore, companies should introduce a new fashion of shoppingwith all speed and offer the latest features.
By implementing speech recognition technology, for example, companies can deliver incredible IT solutions while boosting customer loyalty, together with advanced shopping experiences.
QA Support for Seamless Trends Implementation – 5 Key Steps to Follow
For a project to succeed, the introduction of retail trends into an IT strategy is not sufficient. Companies should also be concerned about an appropriate quality level, as the World Quality Report (WQR) 2020-2021 validates its increasing importance all through the IT product lifecycle.
This is the point where retailers depend on QA support to improve customer experience, as well as gain operational and business advantages. Following are the five QA steps useful for the smooth launch of the retail trends:
Step 1 – Take Proactive Approaches for Increased Project Success
As Agile is widely followed for managing the software development processes, it continues to grow and introduce advanced practices. For example, 52% of the WQR respondents use the shift-left approach and make QA a part of their software projects from the very beginning. This way, they escape from heavy bug fixing after the go-live stage and optimize the QA processes.
So, if a progressive approach to a QA strategy gets involved, one may strengthen the testing activities and boost the overall project efficiency as well.
Step 2 – Start Automation Testing for Quick Software Delivery
As competition continues in the retail industry and more applications are getting developed on a regular basis, companies should minimize the SDLC stages and deliver faster without impacting the software quality.
With the implementation of automation testing, companies can achieve these goals, deliver frequently, increase the transparency of QA processes, reduce QA expenses, and do so much more. But it needs to be applied tactfully, because if not, the improper implementation of test automation may cause issues with environment stability and getting Return On Investment (ROI).
Step 3 – Add Next-gen QA to Sustain Business Resilience
Complete computerization leads to omnipresent embarking on novelty, boosting organizational performance and curtailing operational costs at the same time. Moreover, cloud computing helps swiftly reach the expected results and keep influence in the industry due to their effectiveness and advancement.
Step 4 – Perform Security Testing to Ensure User's Privacy
The absolute confidence in the confidentiality of personal information is the only thing that purchasers aim for. Since there has been a substantial increase in the volume of sensitive data, the QA team can perform security testing to find any system bottlenecks and prevent malicious use of the software deployed on production.
Step 5 – Support QA Culture
As QA is one of the most critical parts of the SDLC, it needs continuous improvement to keep going in the rapidly developing IT industry. Even today, some companies face challenges in adopting the right testing tools and technologies, advanced training, and becoming proficient in the latest approaches and models.
On this account, for 2021, companies should shift their attention to building a stronger QA community and changing teams' outlook with considerable care of software quality.
Conclusion
Bricks-and-clicks phenomenon, mobile and social media purchasing, and AI- and voice-based solutions, when implemented, all these trends can help companies achieve their key goal – customers' satisfaction.
Therefore, organizations should deliver upscale software. When the QA culture is empowered and automation testing is added into the QA strategy, the companies can maintain a strong position in the industry, gain business and operational advantages, and please the end-users.